Are you thinking of renovating you home?
Replacing the traditional metal railings on your balcony or around your pool with glass railings is a great way to accomplish a change of look within a reasonable budget.
There are several advantages of having a glass railing on your balcony or pool. Some of the obvious ones being:
Glass Railings offer a clear, unhindered view.
Glass Railings are as safe as traditional metal railings.
They bring a clean, sleek, contemporary look to your home.
Glass is naturally rust-proof.
Glass railings can be of various style, such as: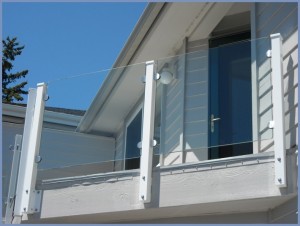 Fascia Mounted Railings: This is the type of railing where the glass is attached with the help of specially designed brackets to the vertical face of a deck or balcony. As seen in the adjoining image.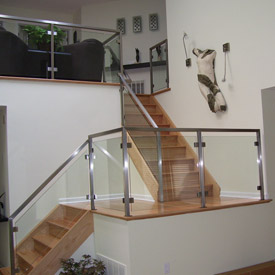 Surface or Post Mounted Railings: In this type of railing the glass is fitted to posts that are fixed onto the surface of the deck or wall (as in case of staircases). This type of railing is often the least expensive.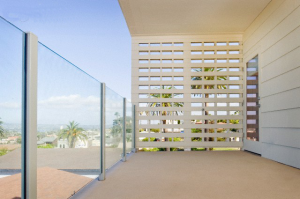 Core Mounted Railings: In this type of railing, the posts that hold the glass are embedded within the concrete slabs of the balcony or staircase.
Apart from these various types of railing systems, there is also a wide choice in the type of glass that can be used in railings. For example:
Clear Glass (Float Glass)
Frosted Glass
Ultra-clear Glass
Custom Etched Glass (We do not offer etching services)
At Thompson glass, we have a 24 hour emergency hotline where you can call in case of emergencies.
Please Contact Us to arrange for a free estimate for the repair of broken glass windows or doors in your home or retail outlet.
If you are hoping to renovate your commercial property, do check out our Conmmercial services.
When cleaning your glass railings, add a few spoons of lemon juice to the water! Lemon is acidic and helps lift off tough marks. Not to mention the lovely fresh fragrance that it leaves behind. Check out other handy tips
here
. And don't forget to check out some great information on broken glass windows
here
!
Glass railings for Pools and Balconies